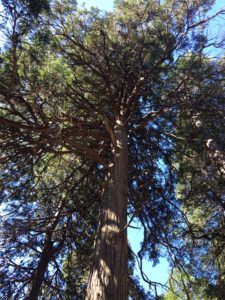 I wasn't entirely sure what to expect when I signed up for the Griffin Dyeworks fiber arts retreat last summer. I'd been hearing about it for several years, and finally decided to give it a shot. I got much more than I ever expected from the experience, from the moment I opened my car door on site.
The retreat is held at Arrowhead Ranch, which is nestled in among the fragrant cedars and beautiful pines of the San Bernardino National Forest. The sound of the wind gently rustling the trees quickly melted the city stress from my shoulders and put a smile on my face. Our tidy little cabin had comfortable beds, a mini-fridge, and a sitting porch out front. It was such a pleasant experience falling asleep to the sound of crickets and trees, and no city noise! There's a pool and Jacuzzi right in the middle of the facility, so if you want a mid-afternoon swim or an after-dinner soak, or maybe just dangle your feet while you sit and knit, you're in luck and in good company.
What do you Want to Learn?
There is a huge variety of hands-on classes available at the retreat; if you're anything like me, you will probably have a hard time narrowing your choices down! How best to tackle the process depends on what you already know and what you're most interested in. If you're new to fiber arts, you may want to hop around from area to area, to get a "sampler platter" experience. If you are more familiar with some types of fiber arts, you may want to concentrate on your areas of interest, or skip what you're most familiar with, so you can learn something new.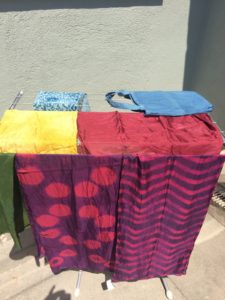 I chose to go with almost all dyeing classes for my first retreat, and since most of the dye classes are near each other, I got to observe and ask some questions about nearby classes, as well as the ones I signed up for. I learned more about how to dye with indigo, using shibori resist techniques; picked up all kinds of ideas about how to repurpose and upcycle old textiles into handmade art; had an absolute blast with some tie-dye projects in natural dyes (I've developed a deep and lasting crush on cochineal!); learned how some of the same materials used for natural dye can be used for fabric stamping and painting; and found new inspiration for other projects like weaving with hand-dyed yarn, although it may be a little while before I can use my hand-spun yarn to weave.
All of the teachers are very approachable, friendly, and patient, and the setting is very informal. Sign up for a continuous string of classes if you want to learn as many new things as possible, or leave breaks in your schedule to hang out and practice what you've learned at your own pace. It's a relaxed atmosphere where you get to choose what pace and subjects will make up your best-possible experience.
Teachable Moments
 The fiber arts retreat is a congregation of an astounding variety of creative minds. Even if there isn't a scheduled class for what you want to learn, if it has to do with fiber arts, you will probably meet someone there who is experienced at it, and happy to talk about it or teach you to do it sometime during the weekend. If you bring a knitting, crochet, or embroidery pattern you've been stuck on, you'll surely find help to get going again. If you see someone doing something you've never seen before but find interesting, sit down next to them and strike up a conversation; you'll probably go home with a new skill you weren't expecting to gain. If you want to improve your skill with a drop spindle or spinning wheel, there is almost always someone spinning in or around the lodge, and they're usually happy to help, even if it's not part of a class.
Creative Inspiration and Encouragement
 For many people, like me, daily life just wears us out and saps our creativity, so we aren't even working on the projects we already have the materials and skills for. The retreat is a great place to bring your UFOs (unfinished objects), because as you relax and get back into a creative mindset, you may well find new inspiration and interest in working on those projects, and you'll definitely find plenty of encouragement and help, too. Even if you schedule a full day of classes, there's unstructured time after dinner to sit and visit while working on a project. It's a fulfilling experience to go home with a hand-woven piece made of your hand-spun and hand-dyed yarn!
 A Community of Fellow Fiber Fans
 The biggest, and most pleasant, surprise that awaited me at the fiber arts retreat was becoming part of a community of creative people I still keep in touch with. New friends are always a treasure, and even more so when they understand and share my creative interests. Those new friendships have broadened my acquaintances and inspiration in the fiber world over the past year. Because I'm in regular contact with that creative hive-mind, I find I'm less likely to set aside creative endeavors for daily life. This community is constantly inspiring me to try new things and continue sharpening my skills at things I already know how to do. The year since the last retreat has been my most creative in recent memory.
Join us at the Fiber Arts Retreat 
 This year's Griffin Dyeworks fiber arts retreat is July 5-8, 2018. Registration is now open, with an early-bird discount for those who pay in full or make a deposit by May 1. We hope you'll join us for a creative recharge this summer!