This is being updated regularly. You must be registered for the retreat to sign up for classes; a sign up form will be emailed to you after registration.
Register for the retreat here or learn more about it!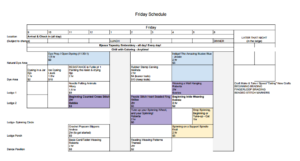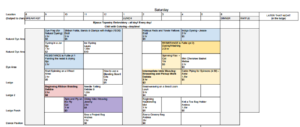 ---
Class List by Type
Classes by Featured Teacher Debbie Coyle
Beginning Counted Cross Stitch
Beginning Inkle Weaving
Beginning Ribbon Braiding
Intermediate Inkle Weaving: Brocading and Pickup Work
Dyeing
Riotous Reds And Yowie Yellows !
Shibori Folds, Bands, and Clamps
Indigo!!!!!!! The amazing Elusive Blue
Dye Prep / Open Dyepots
Dyeing in a Jar
Ice Dyeing
RESISTANCE is Futile! Cold Resist Dyeing
Weaving
Basic Card/Tablet Weaving
Weaving a Wall Hanging on a Hand Loom
Peyote stitch beaded ring
Fingerloop braiding
Reading Weaving patterns
Spinning
Spinning on a Support Spindle
Spin AND Ply-on-the-Fly
Drop Spindling
Cable Plying for Spinners
Spinning Flax
Start Spinning on a Wheel
Tune up your Spinning Wheel, and your Spinning!
Miscellaneous
Bijeaux Tapestry Embroidery
Mini Cherokee Basket
Viking Wire Weaving
Rubber Stamp Carving
Chill with Coloring
Bead Stitch Markers
Needle Felting Animals
How to Use a Blending Board
Needle Tatting
Beginning Naalbinding
Knit a Tea Bag Holder
Sew a Project Bag
Sew a Grocery Bag
Crochet Popcorn Slippers