Our 11th Annual Retreat will be June 26-28, 2015 in Lake Arrowhead, CA!
Featured Guest Teacher – Kristin Morrison!

We are so excited to feature Kristin Morrison at the retreat this year! Kristin is a Southern California fiber artist and teacher, focused on using natural dyes for dyeing and printing on textiles and to demonstrate our connection to the natural world.
Kristin will be teaching a few classes over the weekend – they're sure to fill up quickly so register for the retreat soon! Read more about Kristin on our blog!
Where: Arrowhead Ranch Conference Center, Lake Arrowhead, CA
Arrowhead Ranch has cabins featuring beds and private bathrooms with different configurations that can accommodate between 2 and 7 people. There's a large dining hall, a larger dance pavilion building, plenty of indoor and outdoor space for our classes, a pool, jacuzzi, hiking trails, and more for your downtime!
It's a great location if you want to bring your family along for the weekend – Arrowhead Ranch is located in the natural beauty of the San Bernardino National Forest, just minutes away from Lake Arrowhead.
Cost & Registration
Registration is closed!
Cost: $350 (shared cabin) if deposit is placed or paid in full before May 15; $400 May 16-June 10.
Anyone who registers June 10 or later cannot be guaranteed lodging or food! There are many local hotels or restaurants, and you can bring in your own food. If we cannot provide food or lodging, the price would be lowered to reflect that.
Day tripper cost (includes classes and food for the day, but no lodging):
$100 for Friday (lunch & dinner included)
$150 for Saturday (all 3 meals included).
Camper cost (NO CLASSES – 9am Friday-11am Sunday, all meals & lodging, Ranch amenities)
Adult (Age 11+) – $175
Child (Ages 3-10) – $150
The price still includes ALL food and lodging from Friday afternoon until Sunday morning. You won't need to bring your own bedding, rugs, or pop up tents for our outdoor tent city! No canvas tents – the cabins are all well-appointed, clean, and include private bathrooms, TVs, and wireless internet. There's a heated pool and jacuzzi! We have some photos of the Arrowhead Ranch cabins & amenities.
General Info
Vendors: Vendors are welcome at the Griffin Dyeworks Retreat! Please contact us at info@griffindyeworks.com to learn more.
Schedule
Thursday evening: Staff arrives to set up
Friday
8am: Guests can arrive, breakfast is served
9am: Classes begin
12pm: Break for lunch
1pm: Classes continue
6pm: Break for dinner
Evening presentation
Saturday
8am: Breakfast
9am: Classes begin
12pm: Break for lunch
1pm: Classes continue
6pm: Break for dinner
7pm: ScholarSheep Raffle!
8pm: Evening presentation
Sunday
8am: Breakfast is served
9am: Pack up
11am: Leave the ranch
Teachers & Classes
Teachers are given a discounted entry fee based on the number of hours they are scheduled to teach classes. Have a neat technique you want to share? Want to teach others how to do the craft you do but no one else seems to? ANYONE can teach – it doesn't have to be Fiber Arts, either! You can submit a class proposal online anytime, and we'll be in touch before the event.
We have a preview of the classes available at the 2015 retreat! After the schedule is finalized, class signups will begin.
More at the Retreat
Raffle – Every year we hold a raffle with your donations to fund our Retreat Scholarship program! Please donate any items you think this audience would be interested in.
Freebie/Destash table – Have things to get rid of that may not be worth anything? We have a freebie table so people can pick up supplies, magazines, partially finished projects, fabric scraps – whatever they need! Anything not taken by your fellow retreaters will be donated to a local charity.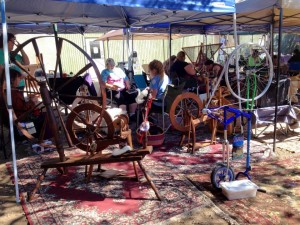 Spinning Circle  – Don't forget your spinning wheel! We sit, spin, & chat during downtime when we're not taking classes and long into the night. It's also a great place to try out some different wheels and see what's out there – everything from an 1800s walking wheel to a repurposed bicycle made into a spinning wheel have been there in the past. The spinning circle welcomes everyone of course, to sit and chat and work on whatever projects you have!
Library – We bring our rare and out of print books for you to peruse over the weekend!