Here is the class list for the Nov 11 Frolic! Register today to get the first chance to sign up for classes. The event is $50 and includes class fees and lunch! A lower half-day fee is also available, please email or message on Facebook.
Morning Classes (10-1p)
Knitting Mobius Wristwarmers by Becky Talyn
This class will teach participants to knit and construct mobius wrist-warmers, with instructions included for making a larger mobius scarf/shawl. This project is based on my own pattern. Intermediate level; familiarity with knit and purl stitches required.
2 hours to complete project; 10a-12p
Bring a ball of yarn and some leftover balls for edging. Bring 16″ circular needles  size 8-10. (Some will be available to share)
Make a Beaded Kumihimo Bracelet or Anklet by Debbie Coyle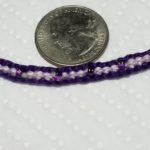 Want to know learn kumihimo (a Japanese braiding technique)? Want to learn how to add beads to your kumihimo? This is the class for you! No experience at anything is necessary. You'll learn how to make a flat braid, and how to add beads to it as you braid.
2 hours; 10a-12p
BRING: Nothing
PROVIDED: Everything needed to make the bracelet: Kumihimo disk warped with threads, beads, and counter weights; clasp; instructions.
Choosing, Skirting and Cleaning a Fleece by Anne Schwarz
In this class we'll talk about buying raw fleeces and preparing them to spin! We'll look at a few different types of fleeces and their qualities – fineness, crimp, staple length – and we'll learn the steps in skirting, washing and picking over a fleece so it can be combed, carded or spun directly from locks.
The class will include a demonstration of carding and/or combing, but will not teach those skills.
2 hours; 10-12p
BRING nothing. PROVIDED: Fleece samples, mesh bags, plastic bags, gloves. Students will go home with fleece samples.
Resist Dye Prep by Laura Davis and Jen Foti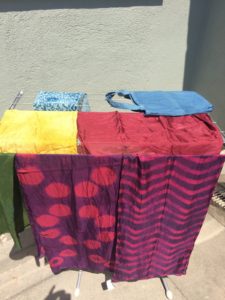 Learn and prepare various types of resists, including some Shibori techniques, for dyeing in classes later in the day. No previous experience needed.
1.5 hours; 10-11:30a
BRING an apron and items to dye – yarn and fabric of natural materials recommended. No yardage or large personal projects! Some dyeables will be available for sale on site.
Indigo Dyeing by Jen Foti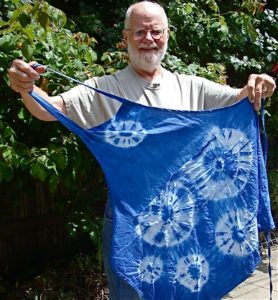 Indigo pot set up (very popular), basic shibori/resist techniques.
2 hours; 11-1p
BRING: Silk scarves, cotton items like tote bags/bandanas etc, pre-skeined yarn no larger than 2oz ea., yardage no larger than 1yd length ea. Items to dye must be washed and free of fabric softener/dirt/oil. Apron/gloves, note taking materials.
Needle Felting Animals by Hilary Godfrey
Basics of needle felting, making a sheep or other animal.
1 hour (10-11)
All materials provided.
 Afternoon Classes (1p-3p)
Natural Dyeing: Reds, Yellows, and Browns by Laura Davis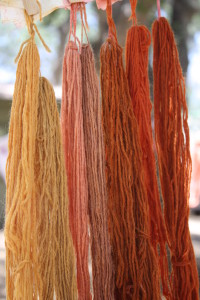 Dyeing with natural materials like cochineal, osage orange, walnut hulls, and more. Please note indigo will be taught separately. No previous experience necessary, but taking the morning resist prep session is highly recommended.
2 hours; 1-3pm
Bring an apron and items to dye – yarn and fabric of natural materials recommended. No yardage or large personal projects! Some dyeables will be available for sale on site.
Combing and Carding, the ABC's of Fiber Prep by Roberta Brubaker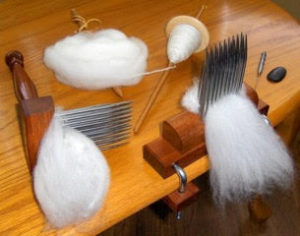 Having properly prepared fiber is critical for being able to spin for the yarn you want. Should you Comb? Should you Card? Students will learn how determine which fiber prep is best for the fiber they have, all in preparation for spinning into yarn. They will learn how to use Combs to prepare wool top, and Cards to brush up roving into rolags. We will also have a drum carder for students to try out. Bring your own Combs and Cards if you have them; we will have a limited supply of loaner equipment (let us know what you need to borrow). If there is time, we can try blending different colors of combed top. Wool will be provided. Students can also bring clean fiber they want to learn how to prep.
2 hours; 1-3pm
Bring: Clean fiber you want to learn how to prep. Provided: Samples of several types of wool, handout. Use of the drum carder. Some loaner combs and cards will be available.
Polymer Clay Shawl Pins by Becky Acosta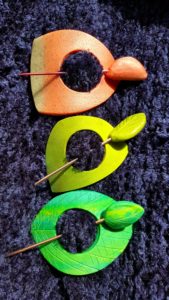 Make a pin to go perfectly with your favorite knitted shawl or scarf. No experience necessary–all levels.
2 hours; 1-3p
BRING: If you want to bring a particular color(s), Premo, Souffle, or Fimo brands are recommended. If you have your own tools, please bring them. If you don't wish to cure your pin at the event (an extra 45 minutes after class–you can pick it up later that day), please bring a container to bring your uncured work home safely.
Knitting with Beads! by Annie To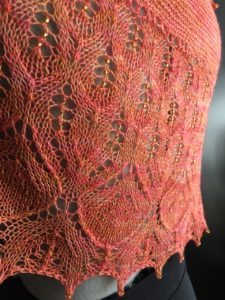 Have you ever been interested in working with beads in your knitting? beads add extra dimension and elegance to any project. We will be tackling knitting with beads step by step with NO stress! Learn how to:
Pre-stringing beads vs beading as you go

crochet hook method and super floss method

reading bead charts

adding beads to any project
All students must be able to do basic knitting and purling.
3 Hours; 2-5pm
BRING: size 6 or size 8 seed beads if you have them in your stash or other beads (hole must be at least 2mm wide), small crochet hook that fits in your beads, desired yarn and appropriate knitting needles.
PROVIDED: various seed beads, super floss, yarn. Some crochet hooks available for loan.
Blending Fiber on a Board by Cris Godfrey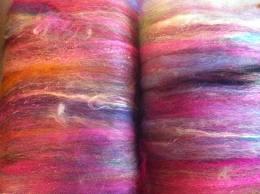 Learn to use a blending board to create custom batts of fiber from your odds n ends or remix existing roving!
1 hour
All materials provided.
Weaving Art on a Hand Loom by Theresa Wollenstein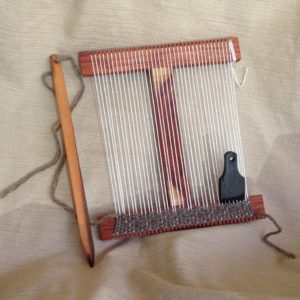 Learn some basics of weaving using a small hand loom or frame loom for tapestry weaving. Use up some of the oddball amounts of yarn! The possibilities are endless. All materials available during class on loan, or for purchase at a discount if you wish to continue.
2 hours; 1-3p
BRING: Yarn if you want, your loom & tools if you have them!
Afternoon Classes (3-5p)
Mixing and Layering Natural Dye Colors by Laura Davis and Jen Foti
Learn how to combine and layer natural dye colors for even more vibrant textiles.
2 hours; 3-5pm
Bring an apron and items to dye – yarn and fabric of natural materials recommended. No yardage or large personal projects! Some dyeables will be available for sale on site.
Mini Cherokee Reed Basket by Melise Gerber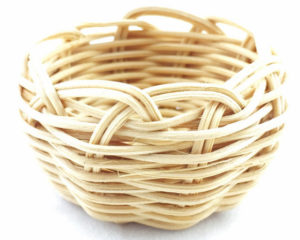 Learn the basics of how Cherokee style basket making by making this mini basket. Skills taught include working with basket reeds, lashing, weaving and finishing a basket. No previous skills required.
2 hours; 3-5pm
All materials provided.
Spinning for the Yarn you Want, Thick and Thin by Roberta Brubaker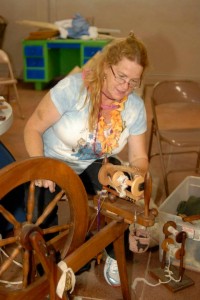 Learn how to adjust your spinning wheel to spin thick and fluffy or thin and strong yarns. We will discuss the best ways to spin and ply a number of different fibers, based on if the resultant yarns will be used for Knitting, Weaving or other crafts. This class will "tune-up" your spinning skills, making you a more versatile spinner. Students will create samples of a range of yarn sizes to take. If there is time, we will ply to make a couple of styles of novelty yarns. Students should be able to spin a continuous thread with their spinning wheel.
2 hours; 3-5pm
BRING: Spinning Wheel, plus any fiber they want to try out.
Embroidery on the Bjeaux Tapestry by Theresa Wollenstein
Learn some simple embroidery stitches and help complete our group project, the Bjeaux Tapestry!
1 hr (all day drop in if you know how to embroider!)
All materials provided (student does not keep anything except knowledge).
Rubber Stamp Carving by Melinda McBride
Design and carve a stamp in rubber. Approximately 1.5 inches by 3 inches.
1 hour; 4-5p
BRING: A printed design, stamp tools if you have them.