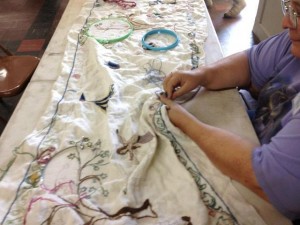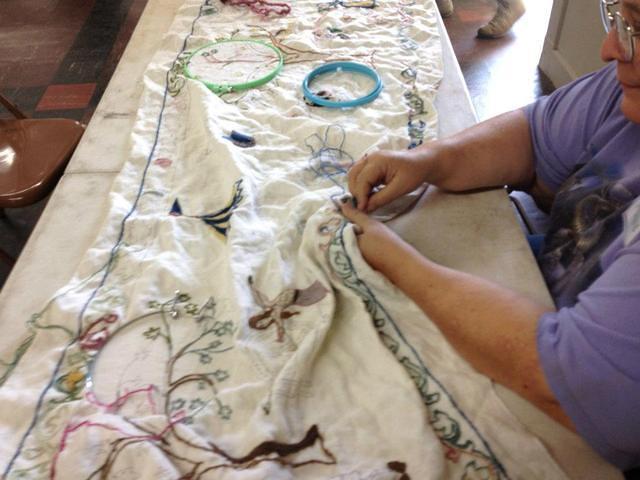 If you've been to a Frolic or a Retreat, you've seen it. Nearly six feet long and two feet tall, our small version of the Bayeaux Tapestry depicts the life cycle of string! We named it after our dye mentor and Griffin Dyeworks owner Bjo Trimble – hence, the Bijeaux (bee-JOO) Tapestry!
The work began in 2009, as a hand drawn gift from our longtime friend and supporter, Esther Benedict of Star Cross Designs and is still being worked on in bits and pieces. All of the threads used in the embroidery are naturally dyed, and most are handspun as well, donated by Frolic and Retreat guests.
I realized recently that I didn't know anything about how the project started! I emailed Esther to ask her what inspired her to create the project, and here's what she had to say:
"Well, first of all, I love group projects, where people are working together to create a single piece. I like to think that a little bit of each person's creative energy gets worked into it. Second, I wanted to celebrate the contributions that Bjo and Griffin Dyeworks have made in sharing the fiber arts. One of the best things about the Fiber Retreat and now the Fiber Frolics is the chance for people to come together and share what they know in a relaxed and also affordable setting. You don't have to be a big name teacher or fiber "artiste", you just need to be willing to share, learn and have fun."
Each of the figures in the tapestry is showing one part of the life cycle of string.  Esther and her husband took every motif from a different medieval or Renaissance illustration.  "For example," she explained,  "the woman spinning on the great wheel is from the Luttrell Psalter, which is 14th century – and incidentally the first depiction of a spinning wheel in European art –  but the men shearing sheep is from a late 15th century source.  My husband, Bruce, converted them into 'cartoons' for the tapestry.  We consider drawing them in one consistent style, but decided to leave them pretty much as is to reflect the origins of the illustrations.  The only thing that isn't from a "period" source is the central figure of Bjo holding the flag with the Griffin Dyeworks logo."
It's so much fun to see what has been added after every event, and we hope you'll add a personal touch when we see you at our fiber arts retreat in June!
We have an image gallery devoted to the Bijeaux Tapestry, if you'd like to see more of it!