Did you know Bjo Trimble's book, Understanding Mordants & Modifiers, is available online, for free?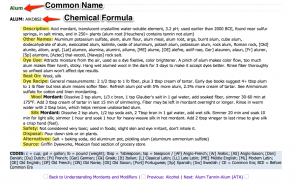 For each of about 50 different minerals salts and chemicals, we provide:
Common Name
Chemical Formula
Description/History
Other Names
Use
Best On which fiber types
Recipes
Safety information
Disposal guidelines (always follow local ordinances)
Alternatives (for when you run out!)
Sources (not just us!)
Plus, there's some great general information, such has how to use the knotted strings pictured below to experiment with different mordants!