A few years ago, we had the honor of hosting handmade medieval reproduction pottery from a member of the Society for Creative Anachronism, Master Hroar Sviðandi (Tim Whitcomb), awarded the Order of the Laurel for his pottery.  He has since passed away, but here are the recipes, also inspired by their medieval equivalents. The recipes were created by Mistress Huette Aliza von und zu Ährens und Mechthildberg, Order of the Laurel for Cooking and Dance, who is also gone.
APPLE BAKER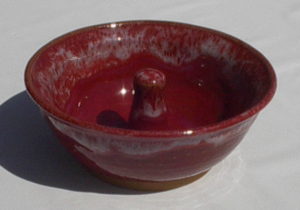 Baked Pears [needs 4 apple bakers]
4 med. firm pears
1/2 cup honey
1/2 cup pear brandy or hard pear cider
Juice of 1 lemon
1 tsp. nutmeg
Preheat oven to 350 degrees. Core pears but leave stem on. Peel pears 1/2 of the way up from the bottom. Place pears on post of apple baker. In a small bowl combine remaining ingredients, mixing well and pour over pears. Cover and bake 45 minutes or until pears are tender.
Baked Apples [needs 4 bakers]
4 Apples (cored)
1/2 cup sugar
2 tbsp flour
1 1/2 tsp ground cinnamon
1/4 cup melted butter
1/3 cup chopped walnuts or pecans or hazelnuts
4 tbsp water
Core apples and peel (optional). Combine sugar, flour and cinnamon. Mix well. Roll apples in melted butter and then in sugar mixture. Put on post of apple baker. Sprinkle the nuts on the apples and add one tbsp water to the bottom of each baker. Bake at 350 degrees for 35 to 40 minutes.
CHICKEN COOKER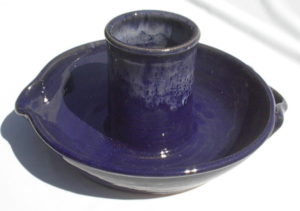 Cooking a chicken on your new chicken cooker:
1 (4-pound) whole chicken
2 tablespoons vegetable oil
2 tablespoons salt
1 teaspoon black pepper
3 tablespoons of your favorite dry spice rub
1 can beer
Remove neck and giblets from chicken and discard. Rinse chicken inside and out, and pat dry with paper towels. Rub chicken lightly with oil then rub inside and out with salt, pepper and dry rub. Set aside.
Open beer can and pour half of it into the cup of the chicken cooker. Grabbing a chicken leg in each hand, plunk the bird cavity over the chicken cooker cup, balancing the bird on its 2 legs and the cup like a tripod.
Cook the chicken over medium-high, indirect heat (i.e. no coals or burners on directly under the bird), with the grill cover on, or in an oven set to 350 degrees F, for approximately 1 1/4 hours or until the internal temperature registers 165 degrees F in the breast area and 180 degrees F in the thigh, or until the thigh juice runs clear when stabbed with a sharp knife. Remove from grill and let rest for 10 minutes before carving.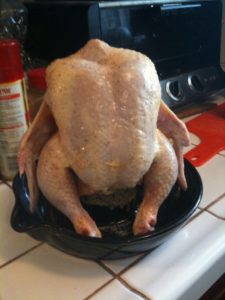 If you are using coals, how about using the other half of that beer to soak some wood chips for smoking?
You don't have to use beer. You can substitute 6 ounces of any tasty fluid, such as a light white wine or fruit juice. Orange juice is a favorite! And this is something to do with V-8 other than breakfast.
Home brew or old, flat beer will work just fine. You can use both fresh or flat, although I find that using flat is better, because it has more volume. And for those who do brew, it is one way to get rid of beer that just won't carbonate.
Salt is optional for the the no-salt gang but you will want some extra piquant flavors in the cup to make up for it.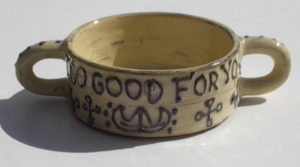 Posset Recipe:
From Sir Kenelm Digby, The Closet (London: 1671)
1 pint cream
18 egg yolks
8 egg whites
1 cup + 1 tsp granulated sugar
1 whole mace
1 stick cinnamon
2 tsp nutmeg, grated
1 tsp cinnamon, grated
1 pint cream sherry
Scald the cream in a pan with the whole mace and stick cinnamon. Beat egg whites until frothy. Beat egg yolks until lemon colored. Fold in together and then fold in one cup sugar and grated spices. Remove mace and cinnamon from cream. Temper eggs with a bit of cream, then mix the cream and egg mixture together continually beating all the time. Place over a medium-low heat and cook until mixture coats the back of a metal spoon. Remove from heat and add the sherry. Pour into posset pots and let cool somewhat, allowing it to settle/separate. Sprinkle one tsp sugar on top of all and serve.
I have deliberately left off the ambergris and the musk, as I don't like the taste, they are hard to find, and are expensive. This posset tastes just fine without them.
TAGINE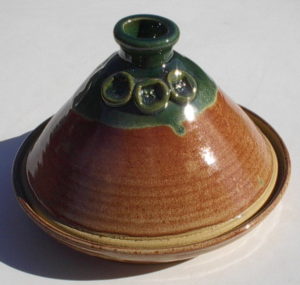 A tajine is a modern Moroccan cooking vessel, that has thick walls and is geared towards slow cooking. As the cooking procedes, moisture collects in the top of the conical dome, and remoistens the cooking food. Very often chicken is used along with various mixtures of rices, spices and fruits. The result is a tender, flavorful dish. It is recommended using this cooking dish in an oven, and to have both the tajine and the oven start at the same temperature. Either both cold, or both warm. Do not use over an open flame. Make sure the temperature is is not too hot, as this cooking  is based on a gentle, slow approach.
Size approx  10-11in wide; 9-10in. tall
Mrouzia or Moroccan Lamb with Raisins, Almonds and Honey
Makes 6 – 8 servings.
2 tsp ras-el-hanout [Moroccan spice mixture]
2 tsp salt
¾ tsp black pepper
¾ tsp ground ginger
¼ tsp crumbled saffron threads
3 cups water
3 lb boneless lamb shoulder, cubed
1 large onion, coarsely grated (I cup)
2 garlic cloves, minced
2 (3-inch) cinnamon sticks
½ stick (¼ cup) unsalted butter, diced
1 ¼ cup raisins
1 ¼ cup whole blanched almonds
½ cup honey
1 tsp ground cinnamon
Whisk together ras-el-hanout, salt, pepper, ginger, saffron, and 1 cup water in the base of your tagine. Stir in lamb, remaining 2 cups water, onion, garlic, cinnamon sticks, and butter and simmer, covered, until lamb is just tender, about 1 ½ hours.
Stir in raisins, almonds, honey, and ground cinnamon and simmer again, covered, until meat is very tender, about 30 minutes more.
Uncover tagine and cook over moderately high heat, stirring occasionally, until stew is slightly thickened, about 15 minutes more. Serve over couscous.
Please remember if you are cooking in your ceramic tagine on a modern range to use a heat diffuser or you will crack your tagine.
Chicken Tagine with Lemon and Olives
Serves 6
2 tbsp lemon juice
12 chicken thighs
¼ cup all purpose flour
½ tsp salt
¼ tsp ground black pepper
¼ tsp ground turmeric
1/8 ground red pepper
2 tsp olive oil
2 cups chopped onion
1 tsp minced fresh ginger
2 garlic cloves, minced
1 cup chicken broth
¼ cup pitted green olives, halved (about 12)
2 tsp grated lemon rind
1 3-inch cinnamon stick
2 tbsp chopped cilantro
Combine lemon juice and chicken in a large zip-top baggie. Seal and refrigerate at least 30 min. Remove chicken and discard lemon juice.
Mix together flour, salt, peppers, and turmeric. Pat chicken dry and then dredge in flour/spice mixture. Heat olive oil in bottom of tagine until hot. Add half the chicken, cooking 3 minutes on each side, until lightly browned. Remove and repeat with other half.
Add onion, garlic, and ginger to the empty bottom of tagine. Saute until tender, about 5 minutes. Return chicken and add broth, olives, rind, and cinnamon stick. Bring to a boil. Cover, bring heat down to a simmer for one hour or until chicken is tender. Remove cinnamon stick and stir in cilantro. Serve hot over couscous.
Please remember if you are cooking in your ceramic tagine on a modern range to use a heat diffuser or you will crack your tagine.