Here's the class list for the April 12 Fiber Frolic! Some changes might still happen, so please watch your emails for updates!

- All Day -
Beginning Spinning by Ruth Northrop
Are you a knitter / crocheter and tired of the yarns NOT available to you? Have you never spun and are ready to give it a try? Come spend some time working with one of the oldest tools known to mankind: A stick, a weight, and the ability to make any thick or thin strand, with any fiber type.
BRING: Drop spindle (if you have one).
1 Hour
CLASS SIZE: no limit
CLASS FEE: None
Bijeaux Tapestry Embroidery
Child Friendly
The Bayeux Tapestry is a 230 foot long embroidered fabric that relates the story of the Battle of Hastings, which took place in 1066 in England. It was created by the long labor of legions of skilled seamsters hundreds of years ago.
We invite all Fiber Frolic Attendees to come add a few stitches (or an entire embroidered figure!) to our own version called the Bijeaux
BRING: Enthusiasm for embroidery!
Spinning Circle
Bring your wheel or dropspindle. Sit and spin, learn, teach, help, inspire others.
We have a number of experienced and talented spinners to help you learn or improve your techniques.
- Morning -
Playing with Reds by Ercil Worth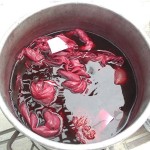 Come and discover the many shades of Red in natural dyeing!
BRING: Students may bring their own YARN to dye in play pots or after our samples are done. Students should bring their notebooks and pencils for notes, aprons, rubber gloves if desired.
2 Hours
CLASS FEE: $0.00
CLASS SIZE: limit to 20
Make a Biscornu Pin Cushion by Debbie Coyle
 Child Friendly
A biscornu is an interesting little eight-sided pincushion. The word biscornu is derived from a French adjective, meaning skewed, quirky or irregular. And these are very quirky and fun! This is a hands-on class, you'll be making your own biscornu.
In honor of the Spring String Thing theme, we'll be using Easter egg shaped beads and making Biscornu "nest" pin cushions.
BRING: Yourself!
2 Hours
Class Fee $5.00
Max students: 10
Beginning Embroidery by Elena Dent
Child Friendly
Learn the art of Embroidery. Learn to embellish your clothing, household linens, just about anything you want. Learn basic stitches on linen and then move over to the Bijeaux Tapestry and add a little of yourself.
BRING: Nothing!
2 Hours
Class Fee $0
Max students: 10
Basic Card/Tablet Weaving by Cat Ellen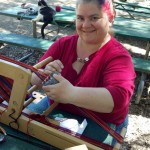 Make that big jump from Inkle to Card/Tablet weaving. Students
will learn to "speed warp" their looms, and how to turn, rotate and flip
the cards to get hundreds of different designs. Advanced students can
use this same warping to learn how to create patterns and write words
with string.
BRING: Card Weaving Loom, 2 balls each of 2 colors of
yarn/thread, at least 20 weaving cards. Cards can be obtained here:http://www.mielkesfarm.com/small_looms.htm
2 Hours
CLASS SIZE: limit to 20
CLASS FEE: $0
Free Form Crochet – Hooking Outside the Box! by Dawn Jeffory-Nelson
The class is for advanced beginning crocheters and above – able to single, double and treble crochet, and able to read simple motif patterns.
FreeForm Crochet is the wonderfully freeing creation of clothing, fabric, accessories and the like through the creative and pattern-less attaching of fun crochet motifs and open work crochet. Patterns ARE used to create the motifs – but not the final product.
We will be able to fashion the start of any number of possible creations from what we complete in class . . . and examples of different possibilities will be on hand.
FreeForm is a wonderful way to play outside the box – there are no mistakes, and no hard and fast rules: just joyous, infinite possibilities of creativity!
BRING: Students should bring scissors, note-taking supplies, and are encouraged to bring their own yarns in their favorite color ways if they prefer their own materials to the "pot luck' of instructor provided yarns (or they can purchase beautiful yarn and fancy crochet hooks from our wonderful vendors!! ) The yarn should be mostly smooth in texture for stitch definition, with some novelty yarns of crazy texture or fur or glitz to add for fun. If they have "F" and "G" crochet hooks, they should bring them as well.
2 Hours
CLASS SIZE: no limit
CLASS FEE: $0 for pre-registered (booklet will be emailed to you), $10 walk-ins (for the booklet)
- Afternoon -
Hand-Painting with Earth Pigments by Bjo Trimble
Child Friendly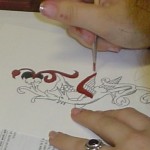 Colored earths are the world's oldest art materials. Colored earths and clays of many hues have been used by prehistoric cavemen to contemporary artists for painting their designs on walls, papyrus, wood, parchment, vellum, and paper. Later, fiber artists mixed their mineral-colored earths with gum tragacanth or with soy milk to create fabric paint. Come touch the earth, mix exquisite pigments, and paint a silk scarf using ancient techniques. No pre-requisites, student does not even know how to draw, as designs will be supplied for tracing.
BRING: Hair tie-back, apron, note-taking material if desired, camera, favorite brushes if desired [Optional – brushes available], own silk scarf to paint (may be dyed) [Optional – silk scarf supplied]
2 Hours
Class Fee $8.00
Max students: Unlimited
Warping your Loom by Therese Calhoun
So you've acquired a loom. Whether it is a ridged Heddle, a table loom or a floor loom, warping is done pretty much the same. Come and get a crash course on figuring out how much fiber you need, how to measure it and how to warp a loom. We will be using a rigid heddle loom
BRING: selves, paper and pencil
4 Hours
Max students: 10
Class Fee $0.00
Beginning Inkle Weaving by Debbie Coyle
Dust off that inkle loom and finally learn to use it! We'll cover all the basics of designing a pattern, warping up the loom, and weaving. Students are encouraged to bring their own equipment and yarn so they know how to use their own loom; but loaner looms will be available.
If you are bringing your own loom and it's already warped up with an old project … don't remove the project from your loom, do bring new yarn (as below) but don't remove the project before class.
BRING: Inkle Loom, 2 different colored balls of Size 3 or 5 Crochet cotton, shuttle
3 Hours
CLASS FEE: None, although but the instructor will have yarn available for sale for students who didn't bring yarn.
CLASS SIZE: 10
THAT'S A WRAP! By Dawn Jeffory-Nelson
Child Friendly
We'll be making a leather wrap-around bracelet using leather, art wire, a button closure and beads, crystals or pearls. They are similar to the Chan Luu bracelets that cost a fortune . . . without the fortune!! And you made them yourself . . .
WARNING: You may become addicted, and start making them for everyone you know!! All level of students are welcome . . . .
You are only limited by your imagination in what color, bead and/or stone combinations you create! We probably won't finish in class, but you'll be more than half way there, and project is easily finished at home.
BRING: if you have special beads, pearls or buttons you want to use, bring them. You may bring your own kits if you like . . . note-taking materials, wire cutters, magnification glasses if needed . . .
2 Hours
Class Fee $12.00
Max students: 12
Natural Dyes on Eggs by Theresa Wollenstein
Child Friendly
We'll explore using various natural dyes and resist techniques to make Easter Eggs! Eggs will not be edible.
BRING: Students can bring their own hard boiled or emptied eggs, and will be provided with 6 eggs each.
2 Hours
Class Fee $2.00
Max students: 5 / 2
Knitted Socks by Melise Gerber
During the class, each student will knit a single mini sock from start to finish, demonstrating the process of knitting a top-down sock with a turned short row heel.
Students should be comfortable knitting and purling. Experience knitting in the round a plus, but not required.
BRING: Alternative knitting needles (if they know they prefer a different type for knitting in the round)
2-3 hrs
Class Fee: $7
Class limit: 5 / 1
Card Weaving 3/1 Twill by Erin Alderson
This is an advanced card/tablet weaving class to learn the 3/1 Broken Twill technique. Students will learn the ancient "Hallstatt" pattern, recreated from textiles recovered from a 2000 year old salt mine in Austria. Students should know basic Card Weaving. This is the next step after Basic Card Weaving, and YOU can learn how to do it!
BRING: Students will be speedwarping their looms in class, so bring an empty inkle/card loom, shuttle, and 13 cards. There are limited loaner looms, cord and cards
available.
2 Hours
CLASS SIZE: no limit
CLASS FEE: $15.00
Ram's Horn Card Weaving Pattern by Erin Alderson
This is an Intermediate Card Weaving Threaded-in Pattern which uses 10 cards (4-hole) for the basic, single design. Students should know basic Double Faced Card Weaving and can take the Basic Card Weaving Class in preparation for this class. This is different from the Speed-Warp used to create Basic Double Faced Weaving. An inkle or card/tablet loom works well for this weaving, as does 2 pegs clamped to a table some feet apart.
BRING: Students will be warping their looms in class, so bring an empty inkle/card loom, shuttle, 3 colors of cord (#3
crochet cotton is recommended) and 10 weaving cards. There are limited loaner looms, cord and cards available.
2 Hours CLASS SIZE: no limit
CLASS FEE: None